Reduce Symptoms of Asian Glow / Alcohol Flush Reaction*
Reducerall's proven, proprietary formula is designed to help combat and reduce the symptoms of Asian Glow or Alcohol Flush reaction. Ingredients like DHM, NAC, & ALA all work synergistically to help quickly flush alcohol preventing dangerous, toxic builds up that product flushing symptoms.*

Improve Complexion & Self Confidence*
With Reducerall, you'll reduce embarrassing redness and improve your self-confidence. Stop standing out and being the only one turning bright red after a drink or two when you're out with your friends or family.*

Stimulate ALDH2 Enzyme*
Alcohol Flush reaction is a result of an inactive ALDH2 enzyme in the liver, which is responsible for eliminating acetaldehyde (the toxic byproduct of alcohol. Reducerall contains the highest dosages of ingredients like DHM, NAC and ALA which all help to stimulate and enhance the ALDH2 enzyme to effectively metabolize acetaldehyde and reduce unwanted symptoms.*

Improve Alcohol Metabolism*
All of the ingredients in Reducerall help protect and promote liver and brain function which helps increase the rate at which your body metabolizes and detoxifies from alcohol. This helps reduce symptoms of Asian glow / Asian flush by priming your liver and other organs to quickly and effectively eliminate alcohol from your system.*

Prevent Hangovers and Headaches*
Because the mechanism of alcohol flush reaction and hangovers are similar (an excess build of of acetaldehyde in the body), Reducerall also serves as a powerful Anti-hangover cure. By taking Reducerall before and after you drink, you'll wake up with a hangover reduced by at least 80% and won't experience the usual, crippling headaches.*
To Reduce Redness:
Take 1 Serving of Reducerall before you drink alcohol.

For additional support take 1 - 2 capsules while consuming alcohol to reduce any existing facial redness or feelings of intoxication.

For Hangover Prevention:
Take 3 capsules per 3 alcoholic drinks consumed before going to bed with a 16 oz. - 32 oz. of water.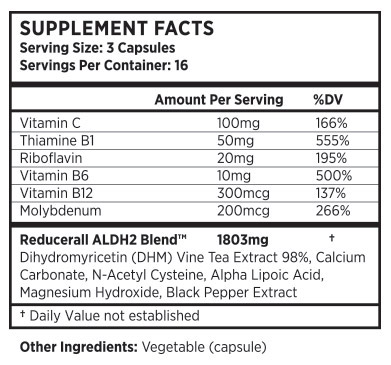 90 DAY MONEY BACK GUARANTEE
We are so confident in our products that we offer a 90 Day Money Back Guarantee on ALL products. What that means to you is that if you're not satisfied with your purchase simply return your product(s), used or unused within 90 days and you will we be refunded in full (minus shipping costs).
*This product does not prevent intoxication, alcohol poisoning, alcohol abuse. Please drink responsibly. Never drink and drive. Do not consume alcohol if you are not of the legal age to do so, while pregnant or nursing. This product is not intended to diagnose, treat, cure, or prevent any disease.* Each person is different and we recommend you carefully look over our ingredients and speak to your physician before taking this or any other dietary supplement.