Maximum Strength Hangover Prevention Formula
Drinkerall includes the highest dosages of the DHM, NAC, Prickly Pear Extract which are the key ingredients in hangover prevention and alcohol metabolism. No Fluff, No fillers. Only Proven Ingredients. Guaranteed.

Superior Liver Support
DHM (Dihydromyricetin), N-Acetyl-Cysteine and Prickly Pear Extract support healthy liver function and can help your liver's ability to effectively process & detox alcohol from your system.

Improve Alcohol Metabolism
Increase the speed at which your body processes alcohol. Reduce feelings of intoxication and sober up fast.

Sleep Soundly & Balance Neurotransmitters
Enjoy deep, restful, uninterrupted sleep. Wake up fresh without pounding headaches. Drinkerall helps prevent GABA rebounds allowing for a rejuvenating night of sleep.

Increase Productivity & Prevent Brain Fog
No more wasted days! Wake up without throbbing headaches and brain fog. Stop regretting the night before. Get more done and truly enjoy your day after a night of fun.
To Prevent Hangovers:
Take 1 Serving of Drinkerall before you drink alcohol.

Take 1 - 2 Servings of Drinkerall go to sleep with at least 16 oz. - 24 oz. of water.
Water plays a key role in reducing hangover symptoms so make sure you drink as much as you can before bed.

To Sober Up and Increase Alcohol Metabolism:
Take 1 serving of Drinkerall per 3 alcoholic drinks with at least 8 oz. of water.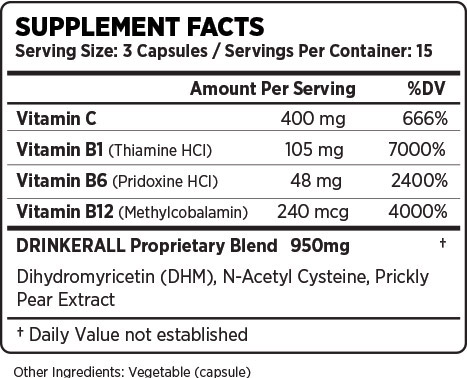 90 DAY MONEY BACK GUARANTEE
We are so confident in our products that we offer a 90 Day Money Back Guarantee on ALL products. What that means to you is that if you're not satisfied with your purchase simply return your product(s), used or unused within 90 days and you will we be refunded in full (minus shipping costs).
*This product does not prevent intoxication, alcohol poisoning, alcohol abuse. Please drink responsibly. Never drink and drive. Do not consume alcohol if you are not of the legal age to do so, while pregnant or nursing. This product is not intended to diagnose, treat, cure, or prevent any disease.* Each person is different and we recommend you carefully look over our ingredients and speak to your physician before taking this or any other dietary supplement.